---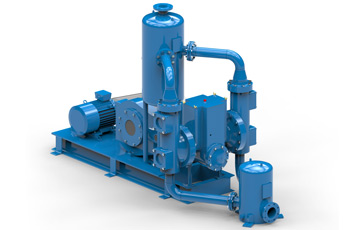 Performance range:
up to 100 m³/h (450 GPM)
up to 10.0 MPa (1450 psi)
Field of application:
Many industries, many difficult applications. Water works,sewage treatment plants steel,mining,power plants,ceramic, chemical industries,
These Piston Diaphragm Pumps are reliable under high-pressure and increased flow rates.
The ABEL HM Piston Diaphragm Pump Range has been especially developed for operations with increased flow rates combined with high operating pressures. During the last 20 years we have constantly developed our products to comply with the latest challenges and requirements in the industry.

ABEL HM Pumps are available as single or double-acting models as well as assuring an increased performance, reliable functionality and especially low operating and maintenance costs. The ABEL HM Pumps are equipped with pre-formed diaphragm which remain stable throughout the duration of the pumping operations. The construction method has been tested in many various industries, as well as with very difficult media, and has been proved to be operationally secure as well as providing a very high membrane, service life time. The parts of the pump which will come into contact with the materials to be pumped are made of nodular cast iron (also rubber-coated), polypropylene, cast steel or stainless steel.
Available with ATEX certification.
Constructional features
electrically driven
pump head made of various metal materials
air vessels for pulsation dampening; diaphragm pulsation dampeners on demand
inspection opening for diaphragm and valves
long service life
internal adjustment of pressure and quantity in dependence of the discharge pressure in the field of filter press feeding
adjustment by means of frequency converter on demand