---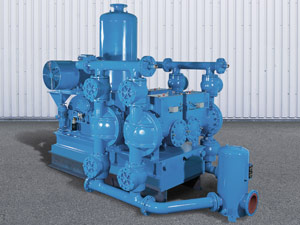 Performance range:
up to 800 m³/h (3522 GPM)
up to 25.0 MPa (3625 psi)
Field of application:
Many industries, many difficult applications. Water works,sewage treatment plants steel,mining,power plants,ceramic, chemical industries,
Piston diaphragm pumps for efficiently handling large volumes - that is ABEL`s strong point.
The pumps which are included in the ABEL range, HMQ (Quadruplex) are easily identifiable due to their unique compactness and space-saving designs. They come to the fore when large volumes of abrasive materials need to be transferred under high-pressure conditions. This also applies when slurry with a high, mineral based content has to be transferred, in such environments as the mining and/or cement industry. The four, pre-formed diaphragms which are incorporated in an ABEL HMQ remain stable throughout the duration of the pumping operations. A regulating-valve installed on the hydraulic side of the unit monitors not only the front diaphragm, but also the rear diaphragm position. This concept of diaphragm monitoring, which provides a high service life standard, is one of the basic reasons behind the reliability and durability of these products.

The impressive service life and reliability of the ABEL-HMQ-Pumping concept has been clearly demonstrated in many world-wide applications. The initial, higher investment costs of an ABEL HMQ piston diaphragm pump, in comparison to other types of pumping systems, soon redeem themselves in a relatively short time. The main reasons for this amortization lie in the reduced energy costs, increased operating time and our experience based, knowledge of the reduced maintenance costs when compared to other types of pumping systems.
Available with ATEX certification.
Constructional features
electrically driven
air vessels for pulsation dampening; diaphragm pulsation dampeners on demand
inspection opening for diaphragm and valves
long service life
equipped with an integral reduction gear
can be fitted out with ball and/or API cone valves
the parts of the pump which will come into contact with the materials to be pumped are made of nodular cast iron (also rubber-coated), cast steel or stainless steel
A reverse flow design is also available for installation in cases of slurries which contain non-stable sedimentation
adjustment by means of frequency converter on demand