---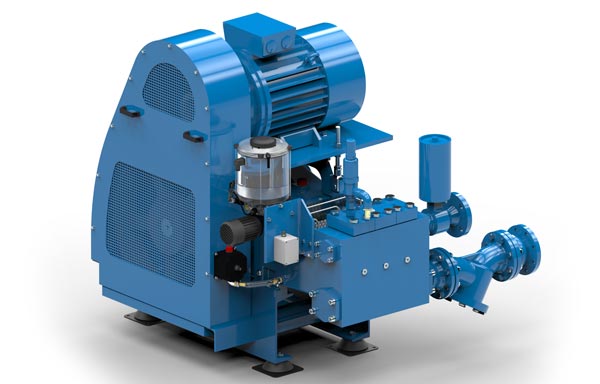 Performance range:
up to 80 m³/h (350 GPM)
up to 25.0 MPa (3625 psi)
Field of application:
High pressure cleaning for Filter cloths,Containers,Pipes,High pressure feeding for Gas washers and gas dryers,Reverse osmosis systems,Reactors, High pressure injection on gas and oil fields
Very high pressure for an extended period of time - is demanding - requires: ABEL HPT.
Especially in process technology, ABEL HPT high pressure plunger pumps show a technological edge when used rigorously over a longer period of time. And that applies for quite varied media, such as salt water and salt solutions, acids, margarine, chemicals, and even lightly contaminated fluids.

Designed to meet the requirements of the media being pumped, various materials are used, such as high quality stainless steel. Different types of valves are also used, such as cone, spherical cone, and ball valves. The plunger seal, which is adapted to meet the requirements of the application and pumping media, is made using V-rings or stuffing boxes; of course, they are also available in flushed or lubricated versions.

Built in mobile turnkey containers, HPT series pumps can be used in a number of applications, especially when you require a high degree of mobility because you need to keep changing locations.
Available with ATEX certification.
Constructional features
fast and cost-efficient maintenance
compact design
long service life
internal return of leakage
less suction pressure required
internal gear unit
adjustment by means of frequency converter on demand