ABEL PUMP SH – Solid transfer pumps for mine backfilling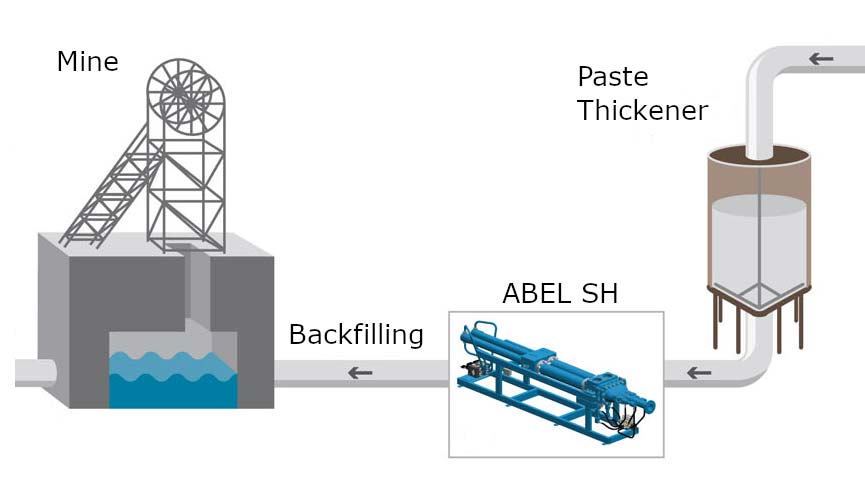 Background information
Our customer is a large underground mining producer of precious metal, specialized in high grade silver and gold deposits. All underground mining activities are epithermal deposits and the main extraction method used is cut-and-fill mining. The mineral extracted is processed and transformed into a silver and gold concentrate.
The process of metal extraction is accompanied by the accumulation of large quantities of tailings that are sometimes used for refilling pits which are no longer in use. With increasing environmental awareness, the handling of tailings from mining processes has become a crucial issue for all mining companies. Given that they are a by-product of the mineral concentration process, tailings do not have any real economic value. They are toxic and generally comprise residues of minerals, soil, water and chemical components from the process itself. Consequently, the disposal of tailings represents a real problem in the mining industry due to increasing volumes, the need for large storage space, the risk of failure of retention basins as well as the water contained in tailings whose infiltrations can harm the environment.
The application
In this context, the alternative of backfilling the mine appears to be a reasonable solution for the costs, the risks and the problems related to the handling of tailings. This solution requires a lower capital expenditure as well as lower operating costs and reduces the environmental impact significantly. The reduction of water consumption in the treatment process leads to the formation of a more viscous (paste-like) product, which reduces the risk of contaminated water infiltration significantly.
In this case, the product is stored in underground locations that have already been utilized. This process is called pit backfilling. To carry out the backfilling process, the pulp must go through a concentration process in which its liquid is separated from the solids with the objective to increase the solid content and make the material more suitable for pit backfilling.
The solution
It is here that ABEL solid handling pumps come into play and become, thanks to their main characteristics and the advantages they can offer the mining industry, a well-suited solution for thickened tailings handling in the process of backfilling. When it comes to working under the requirements of mining applications, the equipment installed must guarantee a high degree of reliability and availability and it must also be suited for operation in challenging conditions and during long periods without interruptions.
ABEL SH solids handling pumps represent the solution for very challenging work conditions. These units are based on piston pump technology and consist of the following 3 main components: the pump, the hydraulic drive unit and the control unit with PLC.