---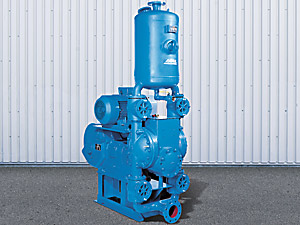 Performance range:
up to 215 m³/h (950 GPM)
up to 6.4 MPa (930 psi)
Field of application:
Pumping of abrasive, corrosive, acidic, alkaline, pigmented, viscous, and grainy media. Very gentle pumping of materials sensitive to shear
Piston diaphragm pumps for difficult media.
ABEL CM piston diaphragm pumps are single or double-action specialized pumps that are used for difficult media. They are highly resistant to wear, even when used at high pressures over an extended period of time. Their true double-diaphragm technology offers a high degree of safety. When used as a pump for feeding filter presses, the rugged, automatic flow rate control (which does not use complex electronics) is another impressive feature that makes it even more reliable.
Available with ATEX certification.
Constructional features
electrically driven
pump head made of various metal materials
air vessels for pulsation dampening; diaphragm pulsation dampeners on demand
compact diaphragm-valve unit with reduced clearance volume
double diaphragm
internal adjustment of pressure and quantity in dependence of the discharge pressure in the field of filter press feeding
adjustment by means of frequency converter on demand