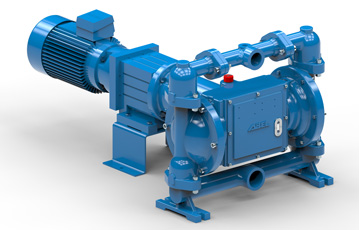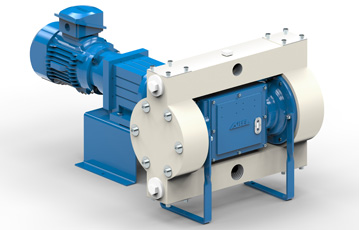 Performance range:
up to 120 m³/h (530 GPM)
up to 0.8 MPa (120 psi)
Field of application:
Pumping of abrasive, corrosive, acidic, alkaline, pigmented, viscous, and grainy media. Very gentle pumping of materials sensitive to shear
The advantage:
Highly energy efficient and long service time.
Energy efficiency that delivers a short payback period and makes you money.
The ABEL EM is a mechanically driven diaphragm pump that is highly energy efficient, because the drive does not require expensive compressed air. Its compact, special design does not require hydraulic fluid, and it can be suitably equipped to provide the performance required by each specific application. The ABEL Electromechanical Diaphragm Pump's unique design concept and impressively low energy consumption when used in the most diverse of applications by the most demanding of customers have helped solidify ABEL's good reputation.
Available with ATEX certification.
Constructional features
electrically driven
pump head made of various metal materials, also for polypropylene (PP) or PVDF (PV).
durable materials for diaphragms, valve seats and balls will give you the best possible combination of materials for your application.
air vessels for pulsation dampening; diaphragm pulsation dampeners on demand
compact diaphragm-valve unit with reduced clearance volume
adjustment by means of frequency converter on demand