---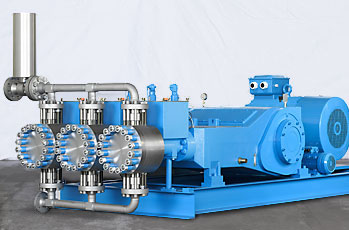 Performance range:
up to 600 m³/h (2640 GPM)
up to 25.0 MPa (3625 psi)
Field of application:
Many industries, many difficult applications. Water works,sewage treatment plants steel,mining,power plants,ceramic, chemical industries,
These Triplex Piston Diaphragm Pumps transfer abrasive slurries up to 25.0 MPa.
The disproportionate trueness degree of oscillating positive displacement pumps leads to irregularities in the flow which, especially in cases of high operating pressures, results in pulsation which is transferred to the base of the pump and the connecting pipework. The ABEL HMT-range is designed with a Triplex-Transmission gear with a 120° crank displacement which enables an optimal, even volume flow in comparison to the possibilities offered by a simply constructed unit. An ABEL HMT is able to demonstrate a performance with reduced pulsation and ease of operation, despite the increase operating pressures of up to 25.0 MPa. Therefore the foundations of the pump and the pipework are protected from damage and the operational safety of the plant is increased.

The HMT Pumps are also equipped with pre-formed diaphragms to the same specifications as the whole ABEL HM range. The superb resistance qualities of the special diaphragms are constantly demonstrated throughout the whole pumping process as there is no evidence of stretching or shrinking. In conjunction with our decades of construction experience we are able to set new standards for pumping technology and equipment, products which are regarded as the market leader by many industries around the world.
Available with ATEX certification.
Constructional features
electrically driven
air vessels for pulsation dampening; diaphragm pulsation dampeners on demand
inspection opening for diaphragm and valves
long service life
equipped with an integral reduction gear
can be fitted out with ball and/or API cone valves
the parts of the pump which will come into contact with the materials to be pumped are made of nodular cast iron (also rubber-coated), cast steel or stainless steel
A reverse flow design is also available for installation in cases of slurries which contain non-stable sedimentation
adjustment by means of frequency converter on demand