ABEL process pumps for high-pressure processes and applications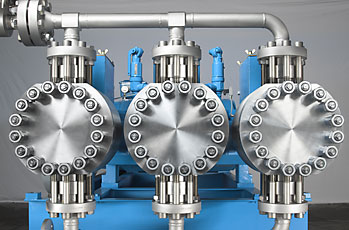 Major customers from every industry —from crude oil extraction to pharmaceutical production— depend on process pumps from ABEL when it comes to systems with high-pressure processes or pumping large volumes. We use components from our proven modular system to specifically build the process pump that best meets the task for your application.
ABEL HMT pumps are the industry benchmark for reliable, durable and energy-efficient high-pressure pumps.
Good reasons for a ABEL HMT
ABEL HMT process pump with a compact design that offers numerous advantages in relation to comparable pumps during high-pressure processes.
Solid, compact design
ABEL HMT process pump features a solid, durable and long-lasting overall design resulting from a one-piece crankcase and double bearing crankshaft. The space-saving monoblock design makes the triplex the world's most compact process pump. This also makes it ideal for applications and processes with little installation space, such as oil drilling platforms.
Low-pulsation flow rate
The triplex series features very smooth running and a low-pulsation flow rate. The even phasing of pistons (eccentric offset) makes this possible. This means there is usually no need to install pulsation dampers in the pipeline system.
Absolutely safe and reliable startup
Starting up the process pump is safe, reliable and easy: When not operating, the diaphragm in a neutral position at all times. This ensures that the diaphragm is never damaged due to incorrect positioning when starting up.