Service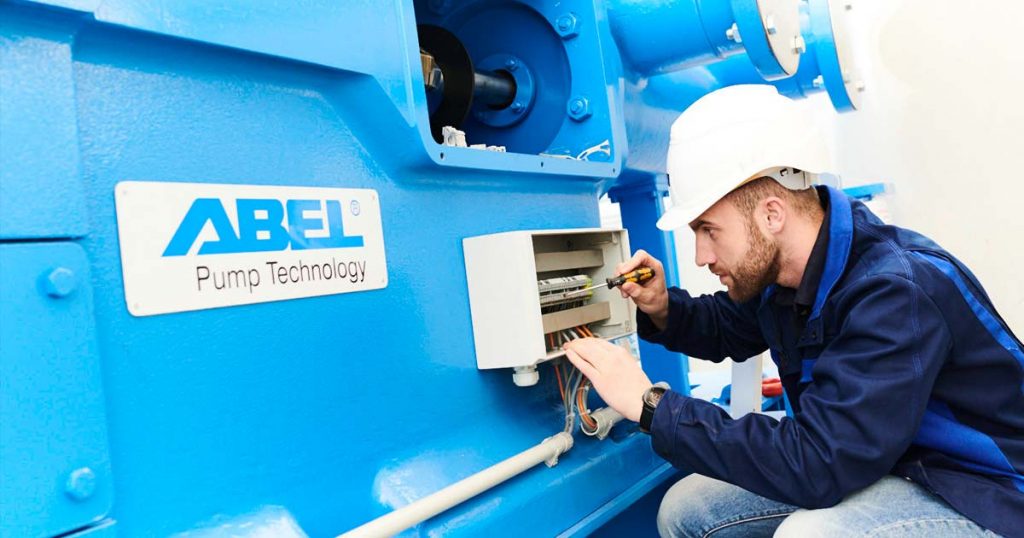 Passion for satisfaction
ABEL's after-sales solutions are well thought out and geared towards the customer. Efficient investment of time and effort helps keep the pumps performing reliably over the long-term. Our service concepts provide services that offer maximum safety, and yet are still in line with the customer's economic interests.
Mainly, we offer the following services
Remote diagnosis via telephone (24/7)
ABEL's telephone hotline provides customers free professional advice for any questions or problems related to pump technology. This includes systematic error diagnosis via telephone and action planning, fastest possible dispatch of customer service technician (including original spare parts, tools, and devices).
On-site repairs (24/7)
Having a 24-hour service available at one's disposal makes customers feel more secure. An appointment with a service technician starts the path toward finding a solution to the problem. Our service team is made up of specially trained technicians who have the expertise needed to repair your system. Based on many years of experience, our service systematically analyzes the influences from peripheral equipment and the associated functional processes to ensure the highest level of reliability and functionality.
Maintenance/Inspection
Experience shows that pumps that undergo routine checks provide the best return on investment. For this reason, we recommend that you document the overall state of the system on a regular basis. When unexpected signs of wear appear, you can then take the necessary steps in advance to avoid system downtimes. By the way, we offer extended warranty periods when you buy a new machine and enter into a maintenance agreement at the same time.
Performance check
Our service equipment was specially designed for performance tests and enables us to perform a thorough check on your system – either on-site or at our factory in Büchen, Germany. After the check, you are issued a status report (with inspection log) showing the current performance capacity of your system.
Moreover, we service
Factory repairs at the headquarter in Germany
Training for the customer's personnel
Commissioning
Revision service
The ABEL service department was certified in accordance with SCC certificate. ABEL guarantees optimally maintained pumps with a high degree of availability, as well as:
Responsible compliance with legal and official regulations, clauses, directives and standards to ensure personal and operational safety.
Preventative measures directed towards occupational safety and health.
Preventative measures related to environmental protection
Routine training and continuing education for employees in the EHS field
Certified environment, health and safety protection